COVID-19 has shaken the world as it is slowly spreading around, affecting millions of people. The threat of coronavirus has led to the closure of various businesses, whether big or small, essential or non-essential. But for how long are we going to stay indoors and protect ourselves? Some of the companies have taken a great initiative to re-open their businesses to save the economy and the people from sinking in.
With the fear of coronavirus lurking in the air, it is time to fight back with intensive-care programs, making each commercial area fit for working and simultaneously protecting the Healthline of people from falling prey to COVID-19. It can be only implemented by disinfecting and sanitizing every nook and corner, and that can be done by trained COVID-19 cleaning specialists.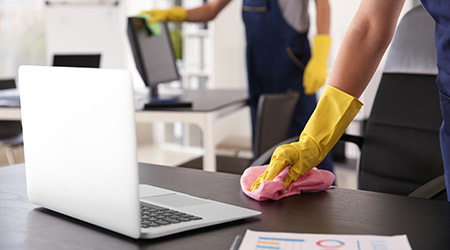 Commercial cleaning specialists follow different methods when it comes to exterminating the germs of coronavirus and even some other harmful viruses. They are trained to clean and sterilise different surfaces to prevent the spread of the virus. By hiring cleaning specialists, companies can create a clean, healthy and virus-free environment for their employees to work. As for the workers, they can trust their superiors on the cleaning programs.
Here are many benefits of hiring commercial cleaning specialists to wipe out COVID-19 if you are considering to re-open your workplace-
1) The Cleaning Services are Different than Routine Standard Cleaning-
 As compared to the standard cleaning, commercial cleaning experts provides a deep, thorough and high-quality services to keep away the virus germs lurking on different surfaces. They have special disinfectants that prove to be effective in getting rid of the virus germs within a few hours or maybe minutes. They will ensure that your employees and customers are safe in office space by taking care of various spots-
Different surfaces, appliances and touchpoints are cleaned with an anti-bacterial solution.
Bathroom, sink, mirror, toilets are disinfected, and steam cleaned.
Furniture is treated with upholstery-safe disinfectant
2) You and Your Staff are Not Cleaning Experts-
Taking the cleaning job in your hand will bring no good since the methods you know are not professionalised. Besides, mixing the harmful chemicals in the right proportion for eradicating the traces of the virus is the job of an expert. If you try such experiments all by yourself or involve your staff, the consequences can be deadly.
3) Preserves the Reputation of Your Company-
Who knows whats has been surfaced when the business was close, right? So the employees may fear going back to the office in the time of a pandemic. If they come to know that the company has hired a professional cleaning and disinfecting company, it will instil in them the trust and confidence of coming back to work. Looking at how a business is operating and securing their employees will boost your reputation in the market.
4) Your Business will Benefit in the Long Run-
You do not want a pandemic to affect your business and your employees, and you definitely cannot risk the lives of your employees and customers. Therefore, you can provide them with a clean and safe environment by hiring COVID-19 cleaning specialists who will keep the virus at bay.